Family planning
conversations
Have you ever wondered about the impact of psoriasis and its treatment on women and their plans to have children? Evidence has shown that, for women of childbearing age, these concerns are very real, but not always voiced.1
As a healthcare professional, you have the power to help address these concerns. By proactively initiating conversations about family planning with your patients at the beginning of their care journey and adopting a shared decision-making approach from the start, you can help your patients choose the right path for them.1,2
This page has a wealth of resources designed to help you understand the most pressing concerns amongst women with psoriasis and helpful guidance on how to initiate these conversations sensitively and effectively.
Why is it important to control systemic inflammation for women living with psoriasis planning to have a baby?
Hear Dr González (Spain), Dr Magnolo (Germany) and Dr Dattola (Italy) about the physiological and psychological effect of psoriasis on women planning to start a family or who are already pregnant and the importance of using compatible treatments for this period.
Watch video
Use the assets below to help treat women who are planning for a family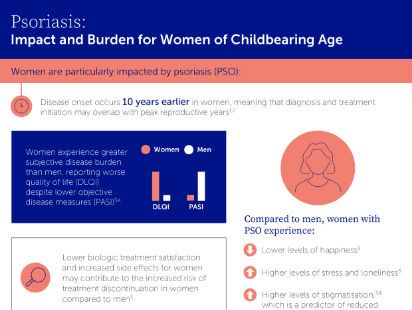 How does psoriasis impact women of childbearing age?
View key statistics and data highlighting the unmet needs of women with psoriasis of childbearing age, focusing on the impact of psoriasis on family planning decisions.
DOWNLOAD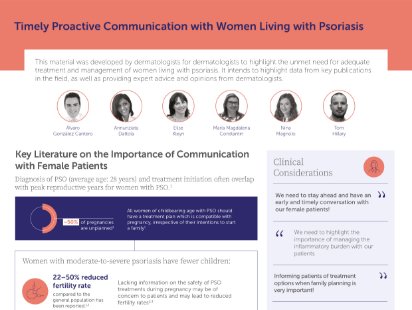 A must-read: Why does family planning need to be part of your conversations on psoriasis care?
Expert advice and opinion from dermatologists on the importance of proactive and timely conversations about family planning with women of childbearing age, and the potential impact on treatment decisions.
DOWNLOAD
How can we best support women with psoriasis who are worried about starting a family?
Consultant dermatologist Dr Gabriela Arana (Valencia, Spain) explains how she talks to women with psoriasis who are worried about starting a family and highlights the differences in treatment expectations between men and women.
WATCH VIDEO
Want to learn more?
Visit our subpages to access additional resources and information
Do you want to continue the conversation on family planning?
Connect with a member of our local team here!
Contact us
Your feedback about this page is key. Please take a minute to review our content!
This website is targeted at EU and UK healthcare professionals only and not intended for the USA.
This is an international diseases awareness campaign. The information on this website is not country-specific.
REFERENCES
van der Schoot LS, et al. J Eur Acad Dermatol Venereol. 2019;33(10):1913–1920.
Gottlieb AB, et al. Int J Womens Dermatol. 2019;5(3):141–150.