Personalized care and shared
decision-making for women
Every person is unique!
That's why it's so important to understand each individual's needs and expectations to develop a personalized care plan to suit them.
Want to know more about shared decision-making and how to apply it during your consultations?
Find time to discuss with your patients about the management and treatment of their psoriasis.
Shared decision-making can go a long way towards empowering women to help them feel their worries have been heard. This process ensures patients and healthcare professionals jointly decide on their disease management based on the best available evidence for treatment options, whilst respecting individual values and preferences.
Download assets to help you provide personalized care to your patients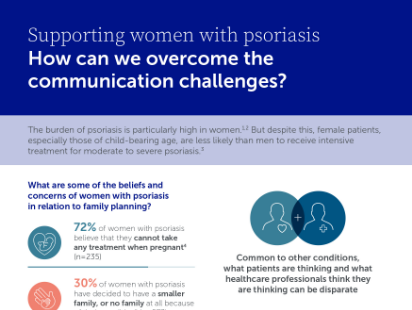 What can you do to overcome communication challenges with female patients?
Learn more about the prevalent beliefs and concerns of women with psoriasis and useful tips on how to overcome the potential communication challenges you may encounter when treating them.
Download
Looking for tools to fully understand and engage your patients?
The following resources can help: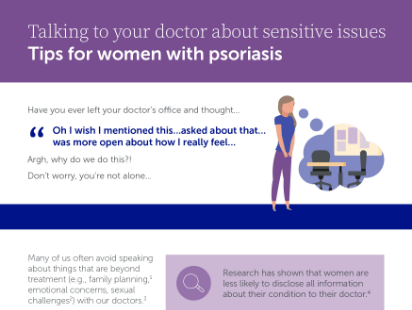 Empower your patients to start the conversation
Download this useful discussion guide to share with your female patients that offers practical advice on how to raise issues with their healthcare professional.
Download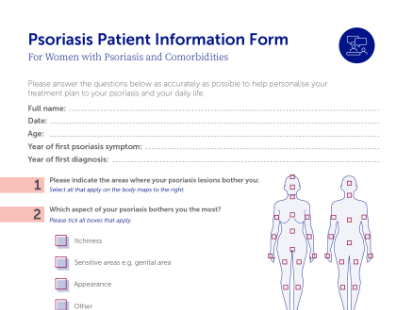 Find out all you need to know before the consultation with our patient info form
Use this patient questionnaire to find out your patients' thoughts on family planning and the physical and emotional impact of their psoriasis. This will ensure these topics are addressed in the development of a personalized management plan.
Download (Print version)
DOWNLOAD (INTERACTIVE ONLINE VERSION)
Find out more information on how to treat women
with psoriasis by visiting our subpages
Do you want to talk about personalized care in your local language?
Connect with a member of our local team here!
Contact us
Your feedback about this page is key. Please take a minute to review our content!
This website is targeted at EU and UK healthcare professionals only and not intended for the USA.
This is an international diseases awareness campaign. The information on this website is not country-specific.